The scientific study
institut Marquès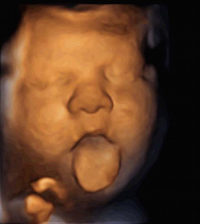 "Fetal facial expression in response to vaginal music emission."
World-first research on foetal hearing finds that from the 16th week of pregnancy, when the foetus is 11 cm long, there is already a response to music delivered vaginally through specific mouth and tongue movements.
The starting hypothesis suggests that music induces a vocalisation movement response by activating brain circuits that stimulate language and communication. In other words, learning begins in the womb.
To carry out the study, a special vaginal device was designed and subsequently marketed by the company Music in Baby under the name Babypod®.